At Vital Proteins, we want to help you kickstart your health journey, and what better way than introducing one of our collagen bundles into your routine. Each bundle is designed for your specific needs and to help you feel at your best.
Combining our bestselling supplements with a few of our favourites, these bundles are created to support your health and wellbeing. Carry on reading to discover everything you need to know about our Vital Proteins Bundles.
Why is Collagen Important?
Collagen is a crucial nutrient in the body that is made up of amino acids glycine, proline, hydroxyproline and arginine. These amino acids act as building blocks to help provide the structure to your skin, hair, nails, bones, ligaments, and tendons.
With age, , the production of amino acid that produces collagen can begin to decline. This decrease can cause the collagen and elastin fibres within your body to become thinner and looser. Therefore, it's crucial to maintain a sufficient level of collagen to help promote optimal health.
What are the Different Types of Collagens?
There are many different types of collagens, but the main three that we find most relevant are type I, type II, and type III. Although they all provide your body with support, here are the main differences between the three:
Type I: The most prevalent type of collagen in the body due to its vast responsibilities, type I collagen works to target fine lines, skin hydration, muscle rebuild, and helps to support your joints and bones.
Type II: This collagen type specifically focuses on the on the skeletal system including cartilage, connective tissues, and joints.
Type III: Along with type I, type III is another abundant collagen type with a wide range of responsibilities. Some of these responsibilities include supporting the structure of your muscles, organs, and arteries.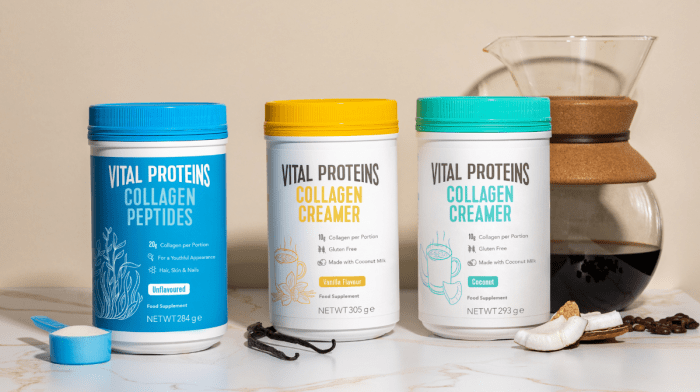 Learn everything you need to know about the different types of collagen.
Our Vital Proteins Collagen Bundles
The Vital Proteins Collagen Bundles are designed to make entering the world of collagen easier, while working to promote and support your health and wellbeing.
Collagen Lover Bundle
For those who already use our collagen powder and want to save coin, our Collagen Lover Bundle is the one for you. Providing you with two 567g tubs of bioavailable collagen powder, you can be stocked up and provide your body with the amino acids it needs to support your collagen levels. It's also unflavoured, so you can add it to any recipe, without disrupting the taste.