Factoring in time to order or top up your favourite collagen supplements might not come as a priority – especially if you have a busy schedule. With our Vital Proteins subscribe and save service, you can replenish your supply of collagen supplements without disrupting your routine. Discover how our supplement subscriptions work and why you should join today.
What is a Collagen Supplement Subscription?
A collagen supplement subscription is a new convenient way for you to manage your collagen levels from the comfort of your own home.
As you may know, when you get older your collagen production can start to decline, which is why you might want to introduce collagen supplements into your routine.
Enjoy the benefits of having your collagen supplements delivered straight to your door, just in time for when you run out, with our collagen subscription.
How Does Our Vital Proteins Subscribe and Save Work?
Our subscribe and save is super easy for you to be a part of. All you need to do is choose your favourite collagen supplement, click on the product, press subscribe and save, pick you desired delivery (every 1,2,3 or 4 months) and add it to your basket.
Once you've subscribed, you'll receive a dispatch email within 24 hours of your order, plus tracking information to know exactly when to expect your collagen supplements.
Why You Should Subscribe
There are endless reasons why you should subscribe and save to our collagen supplements. We've listed a few of the key benefits you can enjoy when you sign up to our collagen subscription:
1. It Can Help You Save
No one wants to miss out on a bargain! By choosing to subscribe and save, you can save 25% on your first order and then 15% on all recurring orders, plus free standard delivery.
2. It's Accessible
Our collagen subscription service is a new innovative way to help make our collagen supplements more accessible and easier for you to receive. What's more, you have full control over your delivery date so you can ensure you're never left waiting for your collagen supplements.
3. It's Flexible
When you subscribe, it's your subscription that can be catered specifically to your needs. This means that if you need to delay a delivery, change the quantity or type of collagen supplement, update your delivery address, or even cancel, you can. All you need to do is visit the 'Account' section of the website to amend your subscription.
Whilst subscribing discover how to incorporate these collagen supplements into your routine here: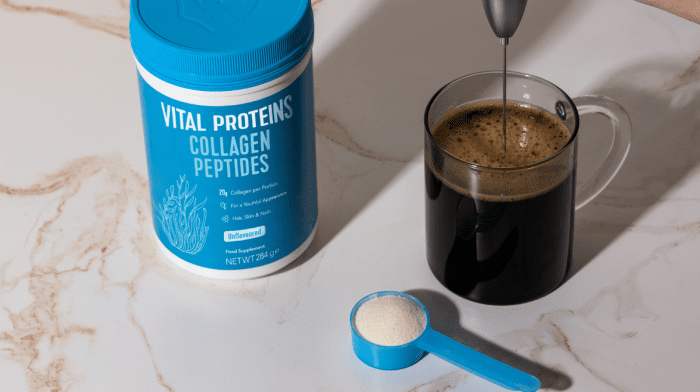 How will you stir up your daily routine with Vital Proteins' collagen powder?