Warmer, sunny days have us craving all the smoothies. There's simply nothing better than a chilled, creamy drink to kickstart your morning routine!
While you'd be hard-pressed to find us an option we don't enjoy, when it comes to picking favourites, a banana smoothie recipe tops our list!
In light of this, we're going to answer all your most pressing questions about crafting the perfect banana smoothie recipe. Things like 'are banana smoothies good for you?', 'how do you make a banana smoothie from scratch?' and 'are smoothies better with milk or water?' will be explored so you can put your best sip forward. Scroll on to learn more!
Are Banana Smoothies Good for You?
Bananas are a fan-favourite fruit for a reason. Underneath their bright yellow exterior is a fruit that can provide a significant quantity of fibre. Also, and perhaps most notably, bananas are a source of potassium and manganese.
Potassium contributes to the maintenance of normal blood pressure, normal functioning of the nervous system, and normal muscle function.
Manganese contributes to the protection of cells from oxidative stress, normal energy-yielding metabolism, and maintenance of normal bones.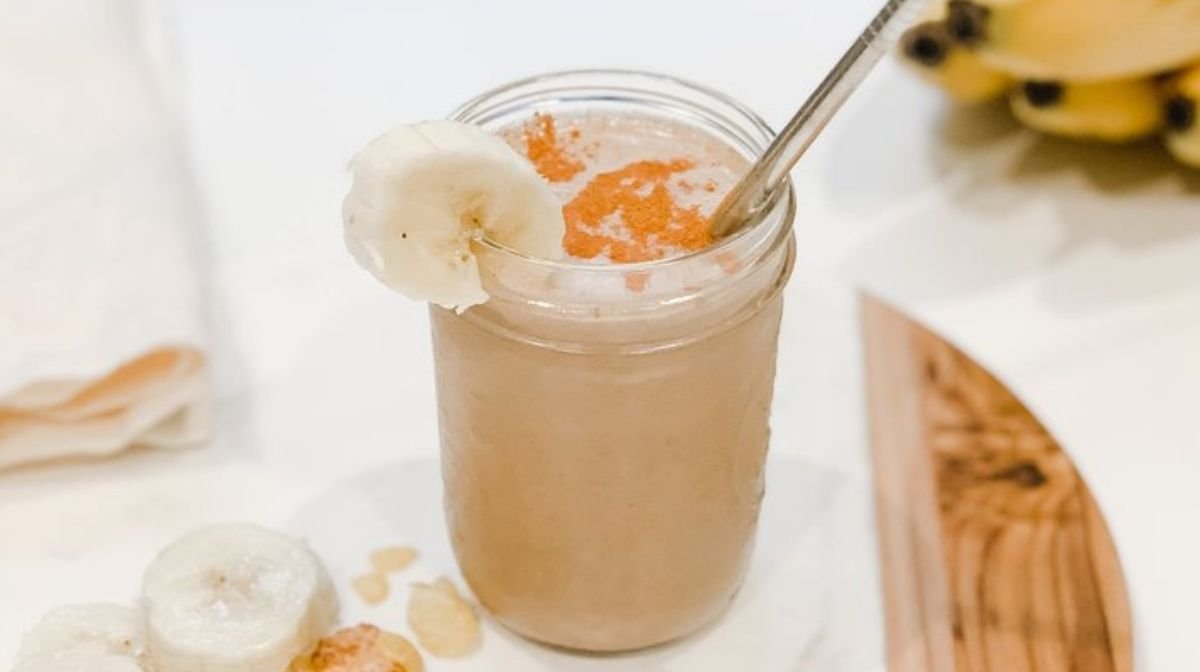 Now that you know what bananas bring to the table, it's no wonder they make an excellent addition to your smoothie. From breakfast to a nutritious afternoon treat, there are so many ways to add them to your routine.
How Do You Make a Banana Smoothie from Scratch?
So you want to make a banana smoothie from scratch? Great! All you need are a few simple ingredients to blend up something delicious. The most important of these items includes a banana, milk and ice. Other popular additions include Greek yoghurt, vanilla extract, honey and cinnamon.
Here's our take on how to make a banana smoothie from scratch:
Collagen Banana Smoothie Recipe
*CONTAINS ALMONDS
Servings

1
Ingredients:
235ml almond milk

1 banana, peeled and sliced into chunks
1/2 tbsp honey
Handful of ice (optional)
Method
Place all of the ingredients into a blender until smooth, creamy and well-combined. (Pro tip: Start on a low speed and gradually work your way up to high speed).

Pour into a glass, add a straw and enjoy!