While looking for strategies to improve our energy, we frequently resort to caffeine. But there are more efficient methods you can incorporate into your lifestyle to assist your energy levels. Continue reading to find out our best caffeine-free energy-boosting techniques.
How to Boost Your Energy
1. Eat Well
Food is fuel and introducing the right foods to your diet can have a huge impact on your energy levels. Here's just a few foods that can help boost your energy:
Lean Proteins: fish, chicken, eggs and tofu
Healthy Fats: avocado, nuts, seeds and coconut
Carbohydrates: whole grains, brown rice, oatmeal
Fruit: bananas, apples, strawberries and oranges
2. Stay Hydrated
Avoiding the temptation to grab a or one of your favourite fizzy drinks to rehydrate, and instead opt for water. This way you can ensure you're reaching the recommended water intake (three litres) and prevent the feeling of drowsiness.
3. Get Outdoors
Spending time with nature can be highly beneficial for improving your mood and reducing the feeling of fatigue. Whether you're going on a run, reading a book in your garden or just breathing in the fresh air can help you feel refreshed and rejuvenated. So, when you're feeling a little bit sluggish, take yourself outdoors for a short reset.
4. Prioritise Your Sleep
Sleep is crucial in all thing's health and wellbeing, and although it can be tempting to watch one more episode or scroll on your phone that little bit longer, disrupting your body's ability to get at least 7 hours of sleep can impact your energy for the following day.
That's why we recommend getting yourself in a night-time routine. Here are some our tips to getting a good night's sleep:
Go to bed and get up at the same time every day
Turn of electronic devices 30 minutes before your bedtime
Avoid naps throughout the day
Create a relaxing environment
What Can I Take to Boost Your Energy
Another way you can help boost your energy is by introducing supplements into your routine and we've got the perfect one for you. Our Morning Get Up & Glow Collagen Powder is an energy-boosting staple, with each serving offering you 90mg of caffeine, from sustainably sourced Coffeeberry® extract.
This powder also includes the amino acids that make collagen, so you can also help boost your collagen levels while increasing your energy.
Discover more about our Morning Get Up & Glow Collagen Powder here: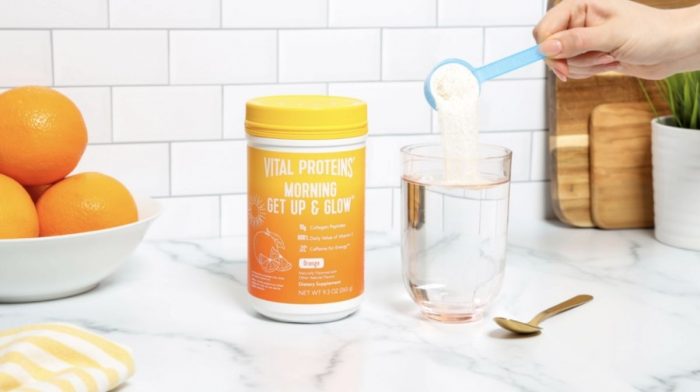 Check out everything you need to know about Vital Proteins Morning Get Up & Glow.